The Weekend:

The Prague Half Marathon has grown in popularity with British runners, due in the main to its excellent organisation, but also because over recent years the Low Cost Airlines have made it a cheap and easy city to get to. The Czech people were already used to Westerners long before their 'Velvet Revolution'of 1989, and they are particularly friendly to tourists. 'Running Crazy Ltd' have operated here for the past few years and have good links with the organisers of the race.

What is included:

- Met at Prague Airport by 'Running Crazy Ltd' staff
- Transfer and return from/to Airport
- 4* Hotel on Bed & Breakfast basis (Hotel close to race start)
- Discounted Race Entry (Guaranteed)
- Reception Meeting/Map of Area/Explanation of Course
- Goody Bag and Number delivered
- 'T-Shirt' and Medal
- Early Morning Call on race day
- Full Results Service by E-Mail
- Optional CD-Rom/DVD Souvenir of race (with you in action)
- Race Support
- Spectator Support
- Services of a Running Crazy representative

The Race:

The Half Marathon starts on one end of the 'Charles Bridge', and then takes in the flat parts of the city, mainly along the shores of the River Vltava, before finishing in one of the city's parks. It is a great course to set a new PB, but if you are unconcerned about times, you will be pleased to be running through some of the scenic parts of this great architectural city. You will be cheered home whatever.
Time Limit: 3 hours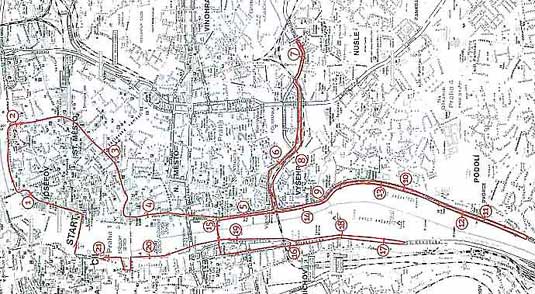 Spectators and Supporters:
We know how important spectators and supporters are at these events. We provide a supporters package at no extra charge. We will advise where on the course are the most advantageous spectator positions, and how to get there easily and in time for the race. More often than not we will take you there and join you for a cup of coffee and have a few surprises planned whilst awaiting the first sight of the runners! All our hotels are comfortably furnished with TV and entertainment facilities - many have spas, pools and saunas too
Charity Runners:
'Running Crazy' are delighted to welcome runners who are raising sponsorship for registered charities. We know that the great feeling of accomplishment when completing the race, feels even better when you are helping others in to the bargain! See our Run for Charity link to choose a charity that you can help. Many charities listed there will provide special runners packs including sponsorship forms and tips, and also charity running vests. Just contact them with your details and tell them you intend to run with 'Running Crazy' on their behalf. In addition we will provide you with a 'Running Crazy' Certificate confirming your achievement and result, and also a special commemorative prize. Just specify the charity name in your 'Application'.
Accommodation:
'Running Crazy Ltd' have secured 4* Hotel accommodation on a Bed & Breakfast basis at a hotel just a short walk from the Start line. Whilst this is good for security of kit and showering etc, a 'Running Crazy Ltd' tent will be available near the start to store your gear. There is an indoor pool and gymnasium, and the hotel is located on one of the main tram lines in to the centre of town for your sightseeing days. It is also very close to Prague Castle (one of the many sights to see).

The Weather:
Last year saw good running conditions, and here are the figures
average sunshine hours per day: 5

wet days in a month: 10

average temperatuire: -1 to 7 degrees celsius

humidity: 82% (at 0700 hrs) 55% (at 14.00 hrs)

average monthly rainfall: 0.7"
Entertainment:
There is plenty to do in Prague. Whether it be the many sights of the Castle, the Palaces, the Old Town, the Museums, the many guided walks and river trips, the varied and lively nightlife, there is enough to keep you and your supporters busy. There is an optional pre-race night pasta evening too. On the race day itself the organisers lay on live bands and entertainers around the course to help you home.

Groups:
This weekend offers a great opportunity for Clubs, or training partners to get together. It may also make the travelling more convenient and enjoyable too. There are discounts for large groups (20+), but even a group of just 10 will qualify for an additional prize for the first or last to finish (you choose).
Prices
Our all inclusive prices are extremely competitive - from as little as just £149 for the weekend - we know we cannot be beaten on price - and our runners continually tell us that they receive so much more on a 'Running Crazy' weekend break. All our 'resort races' offer half board accommodation, and for our 'Big City' races we know all the best value places to eat, drink and have fun. Indeed we book these for our pre-race and after race gatherings, meaning groups and individuals can just sit back, relax, make new running pals and let us do any worrying. No tourist traps for our clients! We know these races and places inside out, and will advise on what to see and do over the weekend, provide directions and maps - all very useful when on a tight timescale. All you have to do is run!

Closing Date
6 weeks before the event, or sooner if "Sold Out" applied to Index page.
What to do next:
If you are interested in taking part in this event, simply complete and return the Application Form. Further details will be sent by return of E-Mail including travel tips, a full price list, and payment arrangements.


"What our customers say"
Sally Jones - London
This was my first trip with Running Crazy and having enjoyed a very stress-free and fun weekend in Prague, it won't be my last. In fact, I've already started looking into what other trips and half-marathons I can do in the future with Malcolm and his team. Everything was so well organised and everyone I met was very friendly. Definitely a great experience all round!
Mick Mills - Israel
Prague for the second time, and my 8th overseas race with Running Crazy. I wouldn't contemplate using any other sports travel company. The organization and personal attention of Malcolm and team are outstanding, and I can only add my strong recommendation.